The 401(K) is like the best thing ever, seriously. It's a company-sponsored plan that helps you save your money with a bunch of other perks. You might have heard it called a retirement account or fund.
On your first day of work, for your entry-level peeps (and some interns at Disney, etc.), you will be asked what percentage of your paycheck you'd like to invest in your 401(k). This is especially true if you are part of a major company, they breath the 401(k).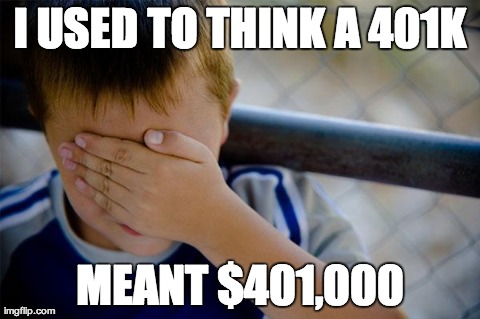 What is it?
You basically take a certain dollar amount per year and put it in a metaphorical "special box" where you'll keep mutual funds UNTAXED until you turn 59 1/2.
If you want to make it more complicated, the special box is really a mutual fund investment provided by your employer.
But don't worry about that mumbo jumbo. You are basically just setting aside money so it grows tax-free and hence more quickly than your taxed saving accounts and paychecks.
Benefits
The benefit is that money comes out of your paycheck before you even see it. That way, you hardly even notice you're saving for your future! You're saving money without even doing it, especially important because you are going to spend a lot of money in your 20's and 30's.
Fine Print
Again, you can't take your money out until you are 59 ½, at which time it will get taxed. It's pretty much a birthday present to yourself for turning 60- look how thoughtful you are.
Matched 401(k)
Some large companies will even offer something called a matched 401(k), mostly for salary negotiations or advancement opportunities.
This means your company will "match" the amount of money you put into your 401(k) every year. If you add $100, they'll add $100. What a deal! If you're into lingo, that's a 100% return on your investment. It's also, not technically, a free raise with no work.
There's usually some fun limitations, like they will only match 3% of your salary, but who cares! Make it rain! Make it rain! Make it rain!
Hope that helped you figure out some of those forms and adulthood!
Keep reading to find out more about the transition into adulthood tips and explanations. Cause #internlife is hard but #adultlife is harder.
Need a Resume? Check out our NEW Etsy store below. Get a new amazing resume instantly for only $10.
FIRST DAY: What the Hell is a 401(k)?
Reviewed by
Unknown
on
8/09/2014
Rating: